Applesauce Grows Up for Fall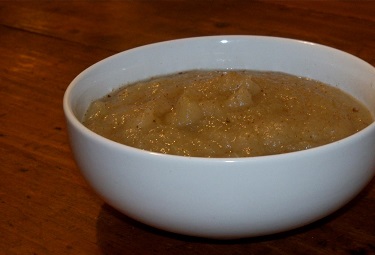 I never liked applesauce until I tasted this delicious recipe. The type of apples you choose will lend the flavor profiles you prefer. I love the sweet and tart flavors of Granny Smith and Honey Crisp, or Pink Lady apples, so those are the types I use when I make this recipe at home.
I also like a chunky texture for apple sauce, which is why a "crispier" apple, like the ones listed above, are my favorites because they stand up to the simmering process, and do not break down completely. If you like a smoother apple sauce, use a "mealier" apple, like Macintosh, which will cook down nicely without many lumps.
There is one unusual ingredient in this classic recipe – the addition of bourbon. This is, of course, completely optional. If you prefer not to use it, you can simply omit it and substitute apple cider instead. If you're open to trying it, you'll find that it adds a depth and warmth to the sauce, making it a sophisticated, and irresistible side dish, dessert, or snack.
The other ingredient that might surprise you is the addition of butter. Again, this is completely optional. The butter adds a creamy texture, sort of like pumpkin or apple butter.
You'll find a selection of Michigan apples are on sale here at Joe's Produce. They're great for just about anything! I hope you enjoy this recipe as much as I do!
Bourbon-Braised Apple Sauce
1 tablespoon unsalted butter
1 1/2 tablespoons chopped fresh ginger (about a 2-inch piece)
6 Granny Smith apples, peeled, cored and coarsely chopped
1 cup dark brown sugar
1 teaspoon ground cinnamon
1/2 teaspoon salt
1 cup bourbon, good quality
Optional: 4 oz  butter
Method:
In a saucepan, melt butter and sauté ginger for 1 minute. Add the bourbon, apples, brown sugar, cinnamon, and salt. Simmer uncovered until apples are very tender, about 45 minutes. Puree in a blender to desired consistency. For a richer sauce whisk in the butter after pureeing applesauce.