Beef Brisket with Sauteed Apples, Apricots and Cranberries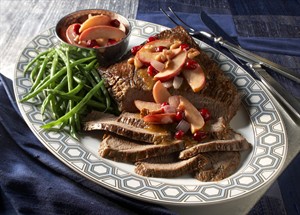 The page you were looking for could not be found.
Check the URL for errors.
1 beef Brisket Flat Half (2-1/2 to 3-1/2 pounds)
1 tablespoon vegetable oil
1/2 teaspoon salt
1/2 teaspoon pepper
1 large onion, coarsely chopped
1 large clove garlic, minced
1 cup apple juice or cider
2 tablespoons butter
5 cups sliced unpeeled apples, Gala (about 1-1/2 pounds)
1/2 cup apricots
1/2 cup of cranberries
2 tablespoons packed brown sugar
1/3 cup walnuts, toasted, coarsely chopped
INSTRUCTIONS
Heat oil in stockpot over medium heat until hot. Place Brisket in stockpot; brown evenly. Remove brisket from stockpot; season with salt and pepper.
Reserve 1/2 cup onion for apples. Add remaining onion and garlic to stockpot. Cook and stir 4 to 5 minutes or until onion is tender. Return brisket, fat-side up, to stockpot. Add apple juice; bring to a boil. Reduce heat; cover tightly and simmer 2-3/4 to 3-1/4 hours or until brisket is fork-tender.
Meanwhile, heat butter in large nonstick skillet over medium heat until melted. Add apples and remaining onion; cook and stir 5 to 7 minutes or until apples are just tender. Add cranberries, apricots and brown sugar; cook 4 to 6 minutes or until cranberries are tender and juices are thickened, stirring occasionally. Stir in walnuts. Keep warm.
Remove brisket; keep warm. Skim fat from cooking liquid. Bring cooking liquid to a boil. Cook, uncovered, 10 to 12 minutes or until reduced by half, stirring occasionally.
Carve brisket diagonally across the grain into thin slices. Serve with reduced cooking liquid and apple mixture.
Test Kitchen Tips
If brisket is too large to brown in stockpot, heat 1-1/2 teaspoons oil in large nonstick skillet over medium heat until hot. Place brisket in skillet; brown evenly. Meanwhile heat remaining 1-1/2 teaspoons oil in stockpot. Add onion and garlic; cook as directed above. Place brisket, fat side up, over onion mixture. Proceed as directed.
Save