Blueberry Balsamic Pork Chops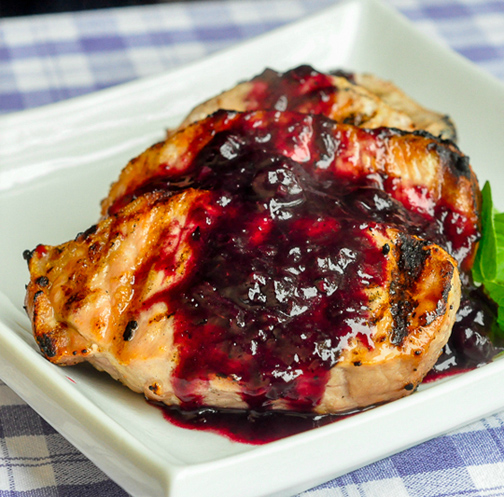 Serves: 4 servings
Ingredients
8 boneless center loin pork chops
3 tablespoons olive oil
2 cloves minced garlic
Salt and pepper to season
½ cup white wine or chicken stock
½ tsp thyme
¼ tsp freshly grated nutmeg
2 tablespoons balsamic vinegar
1 cup blueberries, fresh or frozen
1 tbsp brown sugar
2 tbsp honey
3 tablespoons lemon juice
3 tablespoons butter
1 tsp corn starch
1 ounce water
Instructions
Season the pork chops with salt and pepper.
Pan fry the pork chops in the olive oil and garlic until completely cooked about 4-5 minutes per side. (or grill them on a gas or charcoal grill) Hold the pork chops in a warm oven.
Add the blueberries, balsamic vinegar, wine (or stock), thyme, nutmeg and brown sugar and honey. Simmer to reduce the volume of the sauce by half. Add the lemon juice and butter and simmer for an additional minute or so until the sauce slightly thickens. Season with salt and pepper to taste and spoon the sauce over the cooked pork chops.
If your blueberries are particularly juicy and especially when using frozen berries, you can thicken the sauce slightly if necessary by adding a slurry at the end made by dissolving together 1 tsp corn starch and 1 ounce cold water.
When using grilled pork chops instead of pan-fried just begin the sauce by lightly sauteing the garlic, then add the other ingredients as directed.