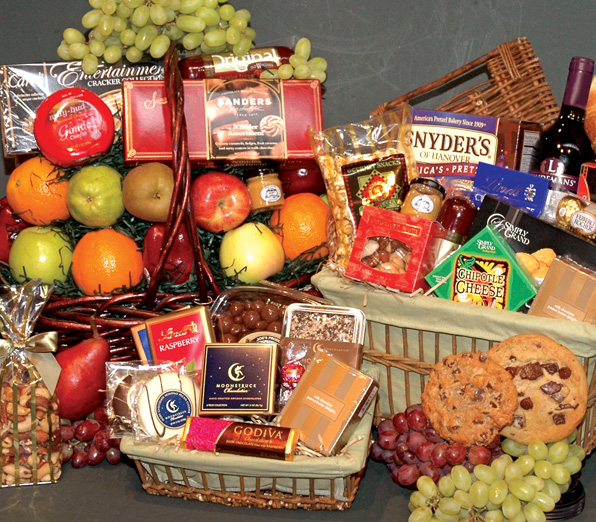 Make a great impression with gift baskets
Food baskets bring a smile to everyone, especially when
they're filled with favorite items tailored to the lucky recipients.
The team at Joe's Produce are basket gurus! Their colorful, flavor-packed creations can include handmade pastries made fresh daily. If you would like to order a custom basket a 24-hour notice is required.
Talk to Joe's experts about a wine-based basket that includes carefully paired cheese and meat.
Choose from prepared baskets, or ask have a custom one made for you. Requires a 24-hour notice, please.
Make holiday and seasonal gifting easier with themed baskets.
Combine the warm, homey atmosphere of your favorite coffeehouse with the creativity and skill of a food crafter, and you have the café/gift basket department at Joe's Produce Gourmet Market.
Virtually no request is out of bounds for Joe's coffee and pastry specialists, whether you're going for a pick-me-up latte during a busy day, planning a dinner party, or looking for a hostess gift, they can help.
Taking holiday gourmet gift baskets orders NOW!

Stop by for a "cuppa" or more
At Joe's Produce café, the coffee is ground and roasted every day – there's never a bitter drop in your cup.
Traditional, organic and specialty coffees are available, and you're always invited to taste a sample of featured flavors like Hazelnut, Mackinaw Island Fudge or Snickerdoodle.
Request a special blend and have it roasted for you in as little as 20 minutes.
Buy your coffee by the cup or by the pound – with beans this good, you can brew your own with confidence.
Buy in bulk to save more
Grains, nuts, candy, dried fruit … if you're stocking up for a big event or just want to fill your larder for future use, you'll find accessible, affordable choices at the Bulk Foods section of Joe's Produce Gourmet Market.
Items come to Joe's on a demand basis and regularly inspected and rotated, so you can be sure of consistent freshness.
Ask the Bulk department manager for help in placing large orders