Honey-Lime Tilapia and Corn Foil Pack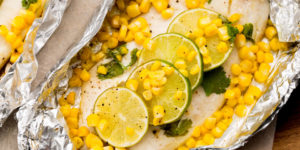 Ingredients

• 4 fillets tilapia
• 2 tbsp. honey
• 4 limes, thinly sliced
• 2 ears corn, shucked
• 2 tbsp. fresh cilantro leaves
• 1/4 c. extra-virgin olive oil
• kosher salt
• Freshly ground black pepper
Directions
Heat grill to high. Cut 4 sheets of foil about 12″ long.
Top each piece of foil with a piece of tilapia. Brush tilapia with honey and top with lime, corn and cilantro.
Drizzle with olive oil and season with salt and pepper.
Grill until tilapia is cooked through and corn tender, about 15 minutes.