Joe's Pizza & Grinder Menu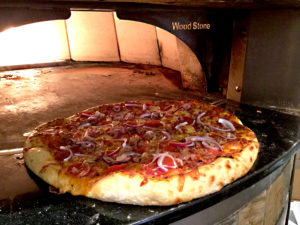 The page you were looking for could not be found.
Check the URL for errors.
Joe's Signature Pizzas
Large $15.99
, Personal $8.99

Italian Four Cheese
Covered in whole milk Mozzarella and Parmesan. Sprinkled with cheddar and a bit of Bleu
All Meat
Pepperoni, Italian Sausage, Bacon & Ham
Italian White
Fresh Chopped garlic, extra virgin olive oil, basil, fresh & shredded Mozzarella, Parmesan Cheese, Fire Roasted Onions & Cream
Chicken Bacon Ranch
Roasted chicken, bacon, Mozzarella cheese & Ranch sauce
The Produce Guy
Roasted chicken, pepperoni,
pineapple & jalapeno
BBQ Chicken
Roasted chicken, red onions, mozzarella, cheddar, BBQ sauce
Grilled Vegetable
Assorted seasonal grilled
 vegetables
Chicken Pesto
Roasted chicken, sliced tomatoes, green onions & pesto
Big Joe's
Pepperoni, ham, sausage, bacon, onions, peppers, olives, mushrooms and mozzarella cheese
Hawaiian Delight
Ham, bacon, fresh pineapple & scallion
The TOGA
Feta, chicken, spinach, red onions, red peppers, olives and Greek dressing
Spicy Asian
Roasted chicken, shredded carrot, cilantro, shiitake mushroom, scallion & General Tao's sauce
_______________________
Joe's Classic Pizza

Choose any 2 toppings
Large  $10.99
Additional topping $1.50 ea.
Small  $6.99
Additional topping 1.00 ea.
_______________________
Pizza by the slice
2 or less toppings $1.99
3 or more toppings $2.75

Joe's Hot Grinders, $6.99 ea.
All served on freshly house made
baked bread
Italian Grinder
Mortadella, ham, salami, provolone, sliced red onion, lettuce, tomato & Italian dressing
Market Reuben
Corned Beef, Joe's slaw, Swiss & 1000 island dressing
Pizza Grinder
Pepperoni, mozzarella & pizza sauce
Grilled Vegetable Grinder
Assorted grilled veggies, mozzarella, lettuce, tomato & basil mayo
Caprese Grinder
Fresh tomatoes, Mozzarella & basil mayo
Roasted Philly
Roast beef, roasted onions, roasted red peppers, provolone cheese & horseradish mayo
Joe's Club
Turkey, ham, bacon, cheddar, lettuce, tomato & mayo
Chicken Ranch BLT
Roasted chicken, bacon, mozzarella, lettuce, tomato & Ranch sauce
Cuban Grinder
Ham, tender roasted pork, swiss, pickles & Jalapeno mustard
BBQ Pulled Pork
Tender pork, caramelized onions, cheddar cheese, pickle & BBQ sauce
Cali Turkey Grinder
Smoked Turkey, cheddar cheese, red onion, lettuce, tomato, avocado & mayo
_______________________
Calzone – $6.99 ea.
Stromboli – $6.99 ea.
Call to order (248) 477-4333