Lamb and Two-Cheese Quesadillas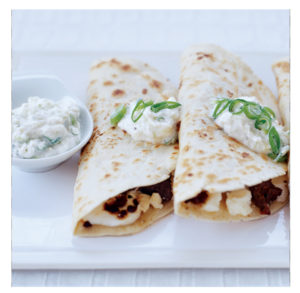 ⁃    2 tablespoons extra-virgin olive oil, plus more for brushing
⁃    1 pound lean ground lamb or use leftover lamb slices
⁃    1 tablespoon very finely chopped oregano
⁃    3 garlic cloves, minced
⁃    Salt and freshly ground pepper
⁃    1 cup whole milk yogurt
⁃    3 scallions, thinly sliced
⁃    1 medium seedless cucumber (about 3/4 pound), peeled and coarsely shredded
⁃    Four 10-inch flour tortillas
⁃    1/4 pound mozzarella, sliced
⁃    1/4 pound feta cheese, crumbled (1 cup)
Preheat the oven to 225•. In a large skillet, heat the 2 tablespoons of olive oil until nearly smoking. Add the ground lamb, oregano and 2 of the minced garlic cloves, season with salt and pepper and cook over moderately high heat, stirring occasionally, until browned, 5 to 6 minutes. Spoon some of the fat out of the skillet. (Skip this is you are using leftover lamb slices)

In a medium bowl, mix the yogurt with the remaining minced garlic and 2 of the scallions and season with salt and pepper. Working over the sink, squeeze the shredded cucumber until it is fairly dry, then fold the cucumber into the yogurt.
Preheat a large cast-iron griddle. Brush the tortillas on 1 side with olive oil. Place 2 tortillas, oiled side down, on the griddle. Top each with one-fourth of the mozzarella, feta and lamb and cook over moderate heat until the tortillas are lightly browned. Fold the tortillas in half and cook, flipping once, until browned and crisp and the cheese is melted, about 4 minutes. Transfer the quesadillas to a baking sheet and keep warm in the oven while you make the rest. Transfer the quesadillas to a platter, top with the cucumber-yogurt sauce and the remaining sliced scallion and serve immediately.