Shrimp With Avocado-Mango Salsa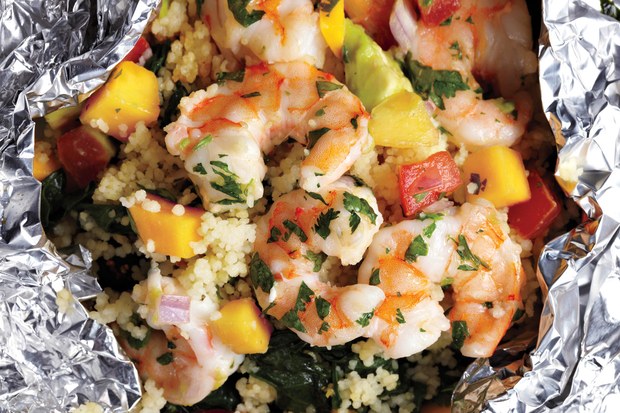 Ingredients
Vegetable oil cooking spray
8 cups baby spinach
1 cup cooked couscous
1 pound medium shrimp, shelled and deveined
1/2 cup chopped fresh cilantro, divided
1 tablespoon extra-virgin olive oil
3/4 teaspoon salt,divided
1 large mango, peeled and diced
1 medium avocado, diced
1 medium tomato, diced
1/4 cup chopped red onion
1/2 jalapeño chile, seeded and finely chopped
1 tablespoon fresh lime juice
Preparation
Heat grill. Fold four 18-inch-long pieces of foil in half; unfold and coat inside with cooking spray.
Place 2 cups spinach in center of 1 half of each piece of foil. Combine couscous with 1/4 cup water;
divide evenly among packets, placing on top of spinach. Combine shrimp, 1/4 cup cilantro, oil and
1/2 teaspoon salt in a bowl. Divide shrimp evenly among packets, placing next to couscous. Fold foil to close
and crimp edges to seal; place on grill; close lid; cook until packets are fully puffed, 10 minutes.
Combine remaining 1/4 cup cilantro with remaining 1/4 teaspoon salt, mango, avocado, tomato, onion,
jalapeño and lime juice in a bowl. Carefully cut foil to open; stir contents; garnish with salsa before serving.
Recipe adapted from epicurious.com.
To see our weekly specials, please click here.
Save