Flank Steak w/Michigan Tomato, Cucumber & Watermelon Salad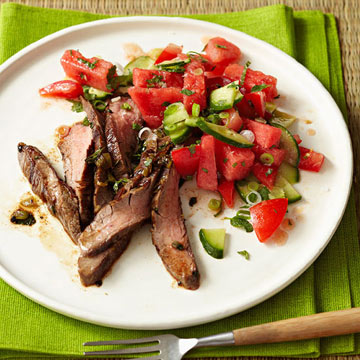 The page you were looking for could not be found.
Check the URL for errors.
Ingredients
2 tablespoons extra-virgin olive oil
2 tablespoons fresh lime juice
1 teaspoon lime zest
1/2 cup cilantro, chopped
1/2 cup sliced scallions
1/4 cup fresh mint, chopped
1/4 teaspoon cayenne
1 teaspoon salt
1 1/2 pounds flank steak
4 Michigan tomatoes seeded and diced
2 Michigan cucumbers, diced
3 cups diced Michigan watermelon
Directions
Whisk together oil, lime juice, zest, half the cilantro, half the scallions, half the mint, the cayenne and1/2 teaspoon of the salt to make a dressing. Pour half into a large resealable plastic bag; add steak and coat well. Marinate in refrigerator for 30 minutes.
Meanwhile, heat grill to medium-high. Toss tomatoes, cucumbers and watermelon with remaining dressing, cilantro, scallions and mint, and 1/4 teaspoon of the salt.
Remove steak from marinade and grill 5 to 7 minutes per side or until internal temperature reaches140 degrees F. Cover with foil and let rest 10 minutes, or until temperature increases to 145 degrees F.
Slice steak against the grain; sprinkle with remaining 1/4 teaspoon salt. Serve with salad.