Bacon Wrapped Meat Loaf with Sassy Sauce
The page you were looking for could not be found.
Check the URL for errors.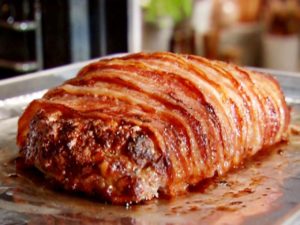 1 lb. Ground hamburger
1/2 c. shredded Irish Dubliner Cheddar Cheese
1/3 c. chopped onion
2 tbsp. ketchup
1 tbsp. Parmigiano Reggiano
1 tbsp. Worcestershire sauce
1/2 tsp. salt
1/8 tsp. pepper
1 egg
8 strips of thin cut bacon
Sauce:
1-1/2 cup Ketchup
1/3 cup Brown Sugar
1 teaspoon Dry Mustard
Tabasco To Taste
Directions

Combine hamburger, cheese, onion, ketchup, Parmesan cheese, Worcestershire sauce, salt and pepper. Beat egg well and mix in well.
Form the mixture into and add 8 strips of bacon and place on a broiler pan, which will allow the fat to drain. (Don't forget to line the bottom of the pan with foil to avoid a big mess!)
Make the sauce: add ketchup, brown sugar, mustard, and hot sauce in a mixing bowl. Stir together. Pour 1/3 of the mixture over the top of the bacon. Spread with a spoon.
Bake for 45 minutes, then pour another 1/3 of the sauce over the top. Bake for another 15 minutes. Slice and serve with remaining sauce.
Bake at 350 degrees for and hour.
Save