Chili Salmon w/ Pineapple Mango Salsa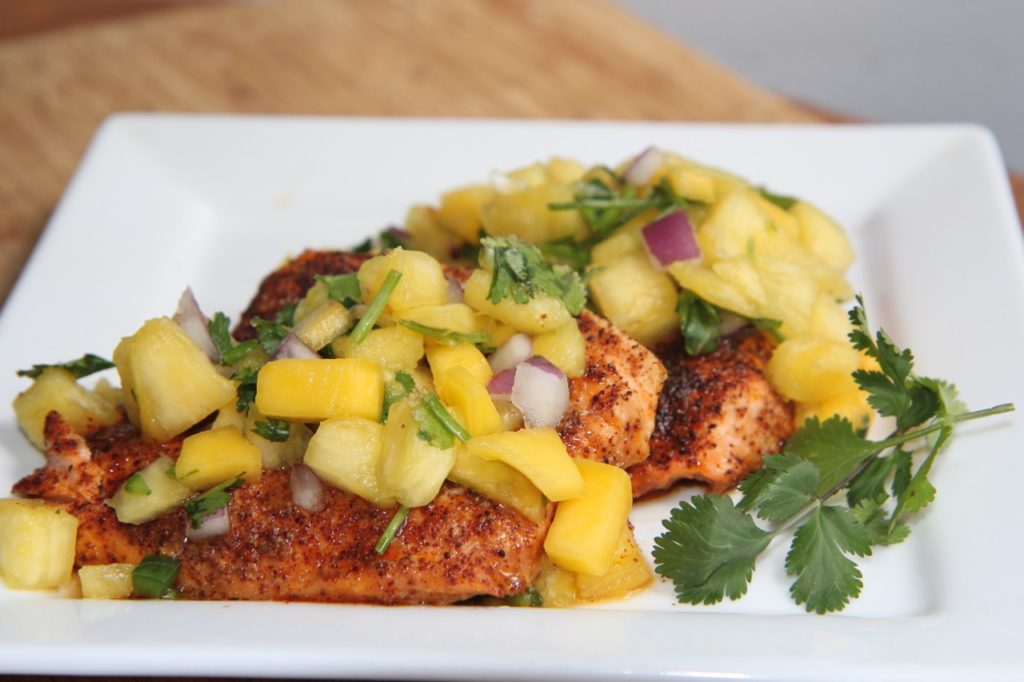 The page you were looking for could not be found.
Check the URL for errors.
PINEAPPLE MANGO SALSA (prepare salsa a day ahead if possible)
1 pineapple, diced
1 mango, diced
1/2 red onion, diced
1 jalapeno, diced
handful fresh cilantro, chopped
1 lime
salt
BAKED CHILI SALMON
3-4 salmon fillets
1/2 lemon
salt
1/2 Tablespoon chili powder
1/2 teaspoon garlic powder
1/2 teaspoon onion powder
1/2 teaspoon cumin
1/2 teaspoon brown sugar
1/4 teaspoon black pepper
Butter
1/2 lemon
salt
Instructions
Prepare the salsa by adding pineapple, mango, red onion, jalapeno, and fresh cilantro into a large bowl.
Drizzle with lime juice and sprinkle with salt.
Mix well to combine.
Cover and refrigerate until ready to use.
Preheat oven to 400.
Place salmon fillets in a casserole dish lined with foil.
Drizzle both sides of salmon with lemon juice.
Sprinkle both sides generously with salt.
Combine chili powder, onion powder, garlic powder, cumin, brown sugar and black pepper.
Sprinkle both sides of salmon generously with the chili mixture.
Place a long slice of butter on top of each fillet.
Bake for 12-15 minutes. (Checking often after the 12 minute mark.) Salmon will be tender and flaky when cooked to perfection.
Remove from oven and let cool for 5 minutes.
Plate the salmon and top with pineapple mango salsa.
Save